By miranda | November 14, 2012
Well well, you know it's been a while when the last post was Seamus' birth story, and here we are, almost a month past his first birthday.
All I can say is, three kids are exponentially more time- and mind-consuming than two.  Way back when I only had two kids (like, 13 months ago) I was pretty confident in my parenting skills, and felt I was balancing everything on my plate quite adeptly.  Then I entered this alternate universe where 2+1= way more than 3.  It has been a challenging year, and a year full of new experiences and funny, sad, crazy anecdotes, many of which could have been transformed into interesting and diverting blog posts… but weren't.  Through all this, I was able, for the most part, to keep the photo gallery up to date, so at least there was the visual record of our antics for all you distant readers to follow, but of late, even that has fallen to the wayside.  Now, that at least is not entirely my fault.  I've tried several times to update it, but the software we're using for this site is out of date, and we need to overhaul the whole gallery portion to be able to upload any more.  So for now there is nothing new to see, but fear not, we still are photographing our three beautiful children, and at some date hopefully not to distant we will unveil a whole new gallery featuring our three blonde blue-eyed babies (with a few shots of Harry and I peppered through to assure you of our continued well-being).
Amazingly, even with the long hiatus, not much of interest is coming to mind this very moment.  The kids are keeping us all busy, and are busy themselves.  Sophie is thoroughly enjoying her second year of playschool, and we're hoping to get Desmond in as well in January, after he turns three.  Since we're foreseeing a multi-year investment in this playschool, I have volunteered to be on the executive, so I have some say in how it's run and what kind of things they get to do.  I'm enjoying it, though it's providing some challenges that I'm not used to, but I'm hoping will get better with time.  We've started down the path of enrolling our kids in various extra-curricular activities, with Sophie trying soccer in the spring and now taking skating lessons through the winter.  It's also been a sporty year for Harry and I, with Harry taking a hockey course in January, then joining and managing a team in Edmonton's NCHL (Non-Contact Hockey League).  After the minor setback of a boken wrist in between summer and winter leagues, he is back on the ice and loving it.  I have also ended a long hiatus from a beloved sport, joining a basketball league through the ESSC (Edmonton Sport and Social Club).  One of the factors stopping me had always been that I didn't know anyone who played, but with the ESSC you can register as a single and they make a team for you.  Our team has really meshed well through the fall season and we've just signed up to play together again in January.  My first time back on the court my legs threatened to rebel and collapse on me after I ran up and down the court, but we've come to an agreement now and every week I feel better and better out there.  My rusty skills are slowly coming back to me as well, which is a pleasant feeling.
I'm going to make an effort not to let this blog lapse into an anual update thing, as there really is so much going on, and things change so quickly when the kids are this young.  Hopefully my mind will un-scatter and allow me to put together interesting narratives to share with the world a little bit more often.
Topics: Family, Learning | No Comments »
By miranda | October 19, 2011
The Annett family is happy to announce the arrival of Seamus Moriarty Annett on October 18th, 2011 at 5:48pm.  He weighed in at 3780g (8 lbs. 5 1/2 oz.) and measured 52cm long.
The birth was an amazing experience.  We chose to have a midwife attend, as with our previous two children, but this was the first time we chose to have the birth in our home.  Labouring at home without worrying about timing transportation to a hospital or birthing centre was very freeing.  The only thing to decide was when to call the midwife, and that was fairly easy to determine.  I had a few irregular contractions early in the morning, but nothing very intense.  We called my Mum to come over and watch the kids (and to take Sophie to play school, as she loves it so much there was no reason to miss out).  Shortly after lunch Mum and Rachelle took the kids to Mum's house so Harry and I could relax and focus together on the task at hand.  We went for a walk (on a beautiful autumn day) and when we returned home, my contractions became more regular.  We called the midwife and pretty soon decided it was time for her to come.  Harry set up the birthing pool in the dining room and things continued to progress.  The intensity ramped up but never approached anything unmanageable.  Kerstin (our midwife) was very unobtrusive and hands-off, letting Harry help me through, only offering the occasional words of encouragement.  I got in the pool, still progressing nicely, not stressing out when Harry had to help the second midwife with directions to our home when she called from nearby, lost.  Harry was my rock, offering any limb I needed for support during contractions, even considering my history with squeezing hard enough to cause injury.  My man never complained (because he knows what's good for him!).  Pretty soon it was time to push, a phase that to me feels euphoric, the power that fills me as I help my little ones out into the world.  Seamus came quickly and smoothly, three pushes and Harry caught him under the water and lifted him to my breast.  As soon as he left the water he let out a mighty squall to let us know he was healthy and here!  A boy, a boy, a beautiful baby boy.  A cut cord later and I was helped to our bed while Harry carried our boy behind me.  Such a relaxing experience, from beginning to end.  Propped up in bed I received Mum and Rachelle and the kids as they rushed back over, meeting Seamus before he was half-an-hour old.
In the aftermath, I was a little surprised to find how little time had passed.  Seamus's birth was faster than Desmond's but it felt far less rushed and intense.  Having him at home made all the difference.  Having Harry and I so completely focused on each other, both of us confident in me and my body, helped this to be a beautiful, peaceful, relaxing experience.  Yes, those are the words I am using to describe giving birth, and I feel so, so blessed for this.
Topics: baby, Birth Story | 2 Comments »
By miranda | October 12, 2011
This is just a little note to direct you to the Gallery, as I have posted new pictures in September and October galleries of what's been going on around here with the two "old" children. Soon (hopefully oh-so-soon) there will be the exciting New Baby, so the "old" kids won't be as shiny anymore and the site will be overloaded with baby-drool cuteness. Get your Sophie-Desmond fill while you can!
Topics: Uncategorized | No Comments »
By miranda | September 22, 2011
Well, the first pick in the Sprout Baby Pool has officially expired, and now it's totally time to enter the waiting game.  It's funny how focused you can get on numbers in pregnancy, there are so many milestones and benchmarks to get past, most of which I've been blessed not to have to worry about, given that my body and I take pretty darn well to the whole incubator role.  The one that means the most to me, however, is the 37-week, official full-term designation.  Anytime after 37 weeks, you are considered full term and able to deliver under the care of a midwife.  The births of Sophie and Desmond were two vastly different, but also utterly positive experiences for me, in a large part because I was able to surround myself with people and caregivers whom I trusted, and who in turn were willing to trust me and my body to do this most natural thing in the world.  Preparing for Sprout's birth, I am again free from anxiety as the due-date approaches.  I still have no clear idea what to expect, as our midwife likes to say, baby number three is a complete wild-card, you can't predict how labour will progress based on previous experience.  Being as my previous experience includes a two-and-a-half day marathon and a four-hour sprint, I think it's fair to say anything goes this time around.  The big difference will be that we won't have to worry about Sprout being born on the side of the road, as we're going nowhere, planning to have this little bundle right here in the comfort of our own home.  The preparations this time have been a bit different because of this, with us having to provide a few extra items, and for me, it really includes a lot of visualizing how the birth will go.  This is often going on in the background, as I spend most of my time around this house.  Tomorrow the midwife comes by for a home visit, where we will go through in more detail how we hope things will go, with some helpful hints from someone who's done this many times before.  And that, to me, is the crux of the matter… this has been done, many times before, by many generations, and even more importantly, by me… twice.  Sprout and I have come this far together and we will finish this journey.  I can't wait until that magical moment when I will finally get to meet this wriggly, squiggly, wonderful little person who's been cooking away inside me these past nine months.  I'm ready whenever you are, Sprout.
Topics: Sprout | 1 Comment »
By miranda | September 7, 2011
After an early lead for team "boy" (more than 2:1), the "girl" team has now caught up and we're neck-and-neck with 44 picks apiece.
Have you put in your guess on the Sprout Baby Pool? Click the link for "Baby Pool" on the right-hand side of the page to test your prognostication proficiency.
Topics: Uncategorized | No Comments »
By miranda | July 31, 2011
Travelling with children… it's amazing anyone can do it and stay sane.
That being said, over all it has been great so far.  Amazingly through our touring B.C. we have squeezed in many visits, mostly expected, some not, and the great weather has followed us everywhere.  Canmore was a longer stay than expected, due to adventures in tire repair, which allowed us to fit in a lunch with the MacDonald-Ferrie clan at the end of our birthday stopover for the July 22nd celebrators.
Onwards to the Okanagan, where we fit in a few days of camping, giving the kids some beach time at Skaha lake, which was waking distance from our campsite.  A good thing, as it allowed us to maximize out-of-car time.  All this travelling helps me realize how grown-up our little Sophie has become, as she is handling this all so well.  I also realize that Desmond is in the middle of a very difficult-to-travel-with time, which he will hopefully outgrow in about a year and a half… which would be great, except -silly us- by then we'll have another one-and-a-half year old.  I've heard that one day, this will get easier… like, twenty years from now?
Our stop in Vancouver was highlighted by a great dinner at Simon's.  Despite some lingering doubts, dinner turned out FANTASTIC, enjoyed by all.   Mmmmm, nice to be reminded you don't need fancy restaurants to enjoy fancy food.  Also, Sophie LOVES salami… loves it, at least, she loves the stuff that Simon finds.  We'll be bringing some home, oh yes.
And then we took the long way to Victoria through the Sunshine coast highway, entailing several extra ferry rides, to the delight of the kids.  Our motel room in Powell River had a great view across the ocean, and was only a block away from the ferry to the island the next morning.  We met up with Margaret in Parksville for a very fun few hours on the beach.  The kids discovered crab hunting in tidal pools, giggling and playing.  There was also a sand sculpture contest going on, which was quite impressive, wow, it's amazing what artists can do in almost any medium.
And now we're on our last day in Victoria.  The wedding yesterday was beautiful, as I mentioned at the beginning, the weather has co-operated this whole time, and the outdoor wedding at Saxe Point Park was no exception.  It was a small wedding, but one of the guests was Harry's great-nephew (wow, that makes us sound old!) Graham, aged 4, who became fast friends with Sophie.  They played all day and danced and ran all night.  I'm surprised she's up and full of energy again today, but that's kids for you.  The rest of our time here has been filled up with some more quality face-to-face time with people we rarely get to see, coast-to-coast.  Julie and Dan have soaked up the mini-Annett love to the max, and we got to have a nice lunch with Great-Nana and Grandad here too.
Now, out for one more day of adventuring before we leave these balmy shores.
Topics: Uncategorized | 2 Comments »
By harry | July 26, 2011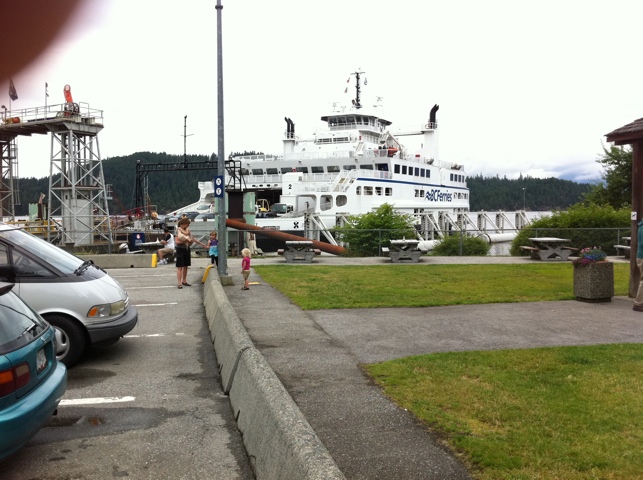 And here is the ferry
Topics: Uncategorized | No Comments »
By harry | July 26, 2011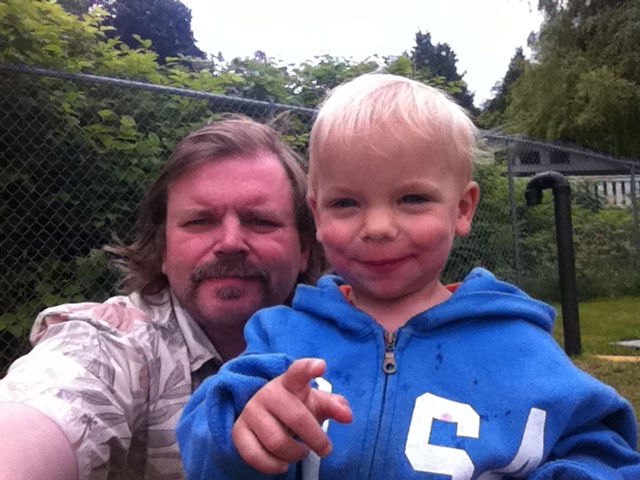 Well here we have Odin point to the ferry
Topics: Uncategorized | 3 Comments »
By harry | July 5, 2011
The garden has been keeping the kids fed in strawberries. Desmond has been learning the art of fruit picking from Sophie though he hasn't always shown patience when it comes to waiting for the ripening of fruit.
Speaking of ripening, beautiful Miranda is showing off her growing bump of baby… Mother and Sprout are doing fine.
Topics: Uncategorized | 1 Comment »
By miranda | December 20, 2010
Ahh, quelle belle ville.  Our stay in Montreal has been really great.  It started out by arriving at the Auberge Les Bons Matins, where we were to spend the first two nights of our stay.  These are also the only two nights where we are not staying with friends or family, and so we treated ourselves a little.  We wanted a place close to the Bell Centre so that we wouldn't have to worry about parking or transit to go to the game, and a few internet searches later we found mostly the usual hotel-type places… and this one.  I encourage anyone traveling here to try it out.  Their website is www.bonsmatins.com and they have pictures of many of their suites.  They're a bit expensive, but for what we got, I think it was worth it.  A "high-end" hotel room in the same area of Montreal costs about the same, and this place was a unique experience.  They also serve an excellent breakfast, which comes with the room.
The first night we went out for supper with friends at Au Pied de Cochon.  What an excellent dining experience!  It was a good thing we were there with a large group because it meant we got to try many menu items.  Apparently this place used to be featured in a show on the Food Network.  They use fois gras in or on almost anything, including poutine (which we didn't try) and a hamburger (which we did).  I had the pied de cochon, which was superbly tasty, smothered in an onion sauce and accompanied with a piece of deep-fried head cheese.  The kids also tried some of the head cheese, and while I didn't see Sophie eat much of it, Desmond gobbled it down.  This place is not for the faint-of-heart (literally – it could give you a heart-attack ) but the flavours were incredible.  Yummy yum yum yum.
The next night was Habs vs. Bruins at Centre Bell, which turned into another unforgettable experience.  It was so great to watch a game in that building, the energy was really contagious.  Harry and I didn't have seats together, but we were close, so each of us had a kid in lap.  Desmond was with me and he did great the whole game.  Sophie was on Harry's lap, and had a rough time for the first couple of periods, but an ice cream power bar during the second intermission revived her and she really enjoyed the third.  Desmond, for his part, managed to fall asleep with about six minutes left even though the building kept getting louder and louder, as the Bruins made a final push to try even up the score.  They were ultimately unsuccessful, and then the crowd got even louder as the clock ticked down to a Canadiens victory.  Oh what fun!  I even donned the home team's colours, much to Harry's delight.
Our last night was spent with Heather and Tom, where we were wined and dined in the comfort of their new place.  They live in a great appartment, and from the sound of it, the neighbourhood provides all they need within just a few blocks.  Such a very different life than our subburban living in Edmonton, charming and appealing in it's own way.  I was much charmed by Montreal.  In another life I might have ended up there, but I'm happy with the life I'm in right now, so I'll remain happy to be a visitor in this fair city.
We are currently in Toronto (or more correctly, Brampton) resting and relaxing and recovering from some traveling sicknesses.  We have very gracious and understanding hosts, letting us overrun their house with two little bundles of energy.  Due to the sickness part, we're not getting all the visiting done in this corner of the world that we had hoped, but at least Gaston and Cathy get to see lots of us!
One more full day here and then we're headed back to Ottawa to finish off the trip with Harry's Mom and some various visiting around that fair city.
Topics: Christmas, Family, Travel, Uncategorized | 1 Comment »
« Previous Entries